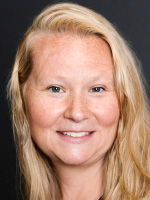 Center for Women's Health announces the arrival of a new nurse practitioner to the team, Kelsey Sellers, APRN, FNP-C. Kelsey is a board-certified family nurse practitioner and began in July 2021.
Kelsey earned her Bachelor of Science in Nursing from Washburn University in 2007. She completed her Doctorate of Nursing practice in May 2021 at the University of Kansas School of Nursing. Kelsey is board certified through the American Association of Nurse Practitioners. She also holds membership in Sigma Theta Tau.
Kelsey was a labor and delivery nurse for 14 years prior to becoming a nurse practitioner. Her passion is women's health emphasizing pregnancy care, where she strives to provide the holistic care that women of all paths deserve. Her experiences as a labor delivery nurse provide her with the knowledge and education to help decrease patients' anxiety while they enjoy this phenomenal milestone in their life. She takes pride in making her patients a priority as she cares for the physical and emotional needs of every woman who find themselves in her care. Women's health is so important, and Kelsey looks forward to helping her patients with their health needs.
In her free time, Kelsey loves to spend time with her 2 boys, Trey and TJ, her soulmate, MJ, and their yellow lab, Griffey. She enjoys traveling, running, practicing yoga, and watching her husband play baseball in the summer months.
Kelsey is very excited about providing exceptional care to all!!