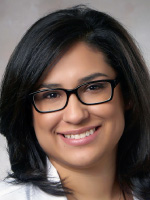 Dr. Sarah Pearl joined Center for Women's Health in 2019. She graduated from the Kansas City University of Medicine and Biosciences and also earned her Masters in Business Administration in Healthcare Leadership from Rockhurst University Helzberg School of Management. Following medical school she continued her education and training at the Obstetrics and Gynecology residency program at the Michigan State University Sparrow Hospital in Lansing, Michigan. She served as co-chief resident as well as the American College of Obstetricians and Gynecologists State of Michigan Junior Fellow Vice Chair.
Dr. Pearl has focused her training and education on Women's Health advocacy and underserved health populations. She prides herself on delivering patient care that is holistic, personal, and built on a trusting relationship between doctor and patient. She focuses her care on developing partnerships with her patients with a goal of personalizing and integrating their healthcare needs into their daily lives as mothers, daughters, wives and professionals.
Dr. Pearl is licensed through the State Board of Healing Arts both in Kansas and Missouri. In her free time, she enjoys spending time with family and trying out new activities. She notes being a mother to her two boys as her biggest accomplishment in life.